First of all, I did a really great job of running a marathon. Second of all, the cabin sucked. Driving went fine.
I drove from Kansas City to Fulton Illinois, directly to the race course on the day before the race. I wanted to make sure I knew where the course was. I met Clint and Tedford there, so I knew I had the right place. Then I proceeded to the campground.
I think I realized from the instant I first walked into the cabin that I didn't like it. Mostly because it was dark inside (no windows) with poor lighting. The air conditioner was very noisy. The porch might have been nice to sit on but it was in the sun, so too hot to sit there. I put my chair in the shade in the grass and found it very buggy. The shower house was dark also, though it did have real toilets. The camping area only had a pit toilet with no light or door. During the night, I found my sleeping situation not comfortable, being too hot or too cold depending on if the AC was on. The AC kept waking me up. I found myself peeing in a plastic tub I brought for that purpose, but still, it was awkward and made me wonder what the hell I was doing there.
I got up around 3:30 to prepare to drive to the race which started at 5. I found myself with the phone, looking at hotel rooms in nearby Clinton Iowa. I was realizing that it was an impossible task to recover from a full marathon in that cabin and be ready to go to a 5 am race the next morning. There was no way I could relax and re-hydrate in that cabin. As well, it would take extra time to pack up my mountain of stuff in the morning.
I drove to the race. After parking, I immediately took out my phone and booked a room at the Hampton Inn for that night. This was very fortuitous. It meant that I could relax and run my marathon knowing I would have a shower and a bed waiting for me afterward. It also meant that I would finish my race because I had already paid for the hotel room. I had nowhere to go so I might as well run 26 miles. My mind bought into this perspective and I had a great race. There was a cool breeze coming in from the north, keeping the weather mostly cool. I loved it. It was the first time in awhile that I ran in joy and not in wanting to quit. The 26 miles went by easily and fast.
Video on Day 1: https://youtu.be/ICSs3vhzAIo
I finished the race in 5:57 by my Garmin, which didn't include pit stops. I jogged most of the first 20 miles. Very happy with that.
After the race, I drove to the campground, packed up my stuff and checked into the Hampton Inn. The AC in the room was quiet! The room was clean. I showered. I began to re-hydrate with a real bathroom nearby, not having to pee in a cup (like at the cabin). I felt like a queen in my hotel room.
Day 2: The racing company gives you the same medal no matter what distance you do and you can switch distances after the race starts. I knew I didn't plan to go more than 13 miles for a half marathon. I started jogging. After 5.5 miles I realized that my legs were tired and I didn't want to push them. So I finished off a 10k and collected my medal. The sunrise was worth getting out of bed for.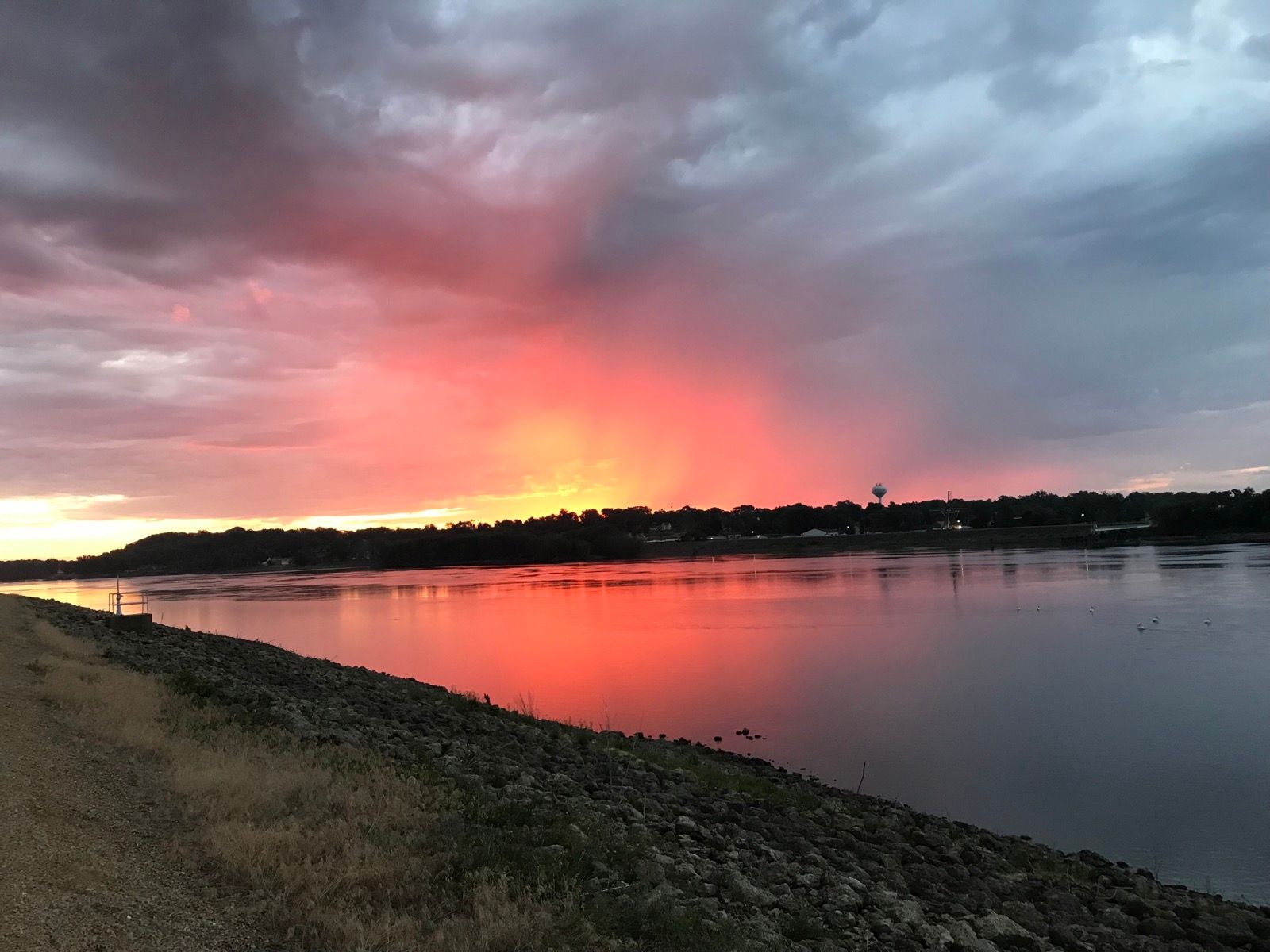 I am extremely pleased that I had enough positive mental attitude to enjoy a full marathon. I am entered in a 50k in 6 weeks and I feel optimistic about that. My training plan is to keep lifting weights and keep putting in hot miles, even if walking. I have no injuries from my marathon.
As I started heading home, west bound on I80, I noticed that there are more semi-trucks on I80 than cars. It made for a slog from Davenport to Des Moines. But as I turned south on I35, it was smooth sailing. I guess no one wants to go to Missouri!